Inverter and Deep cycle battery installation training
Before you start, note that you can easily see the contents of this course by clicking on the curriculum tab above.
In this course, you will learn in details how you can install power inverters and the accompanying deep cycle batteries.
We have partnered with the number one training institute: Wavetra Energy Academy and other carefully screened and selected international solar installers to bring to you a online yet detailed step by step training on Inverter and Deep cycle battery installation training . This is the best online training on Inverter and Deep cycle battery installation training you can get.
You will be patient to watch the videos that shows you the hands-on guide on solar panel installation.
Learning Outcomes:
Click the curriculum tab above to see course contents. At the end of this training program, you will be able to learn how to install inverters for your client and you will also understand in details the working principles of inverter and a power inverter system.
At the end of the course, you would be able to do the following: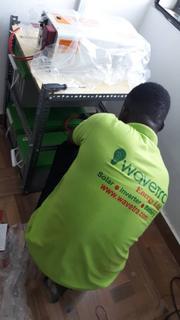 Introduction to Renewable Energy
Understand the function of an inverter
Understand the various types of Inverters: Pure SineWave, Approxiate and Quasi-Sinewave inverters.
Understand Inverter Load & Power Estimations & Calculations
Install Inverters
Understand fully the different types of batteries and why Deep cycle batteries
Understanding deep cycle batteries specifications
Know the types of deep cycle batteries
Electrical safety and installation
Target audience:
This course is aimed at Students, graduates, NYSC members, Electrical Engineers, Home owners, Architects, Property Developers, Consultants, anyone that has interest in Renewable energy or who want, to have a good understanding of Inverter installation.

Ask your question:
Expert tutors will personally reply you usually within 24 hours. PLEASE you must type out your question title in full and give sufficient details
Course Features
Lectures

10

Quizzes

0

Students

199

Assessments

Yes
Renewable Energy

Understand what renewable energy is and learn the various sources of renewable energy.

Deep cycle batteries

Learn about batteries and why deep cycle batteries is preferred in inverter power system. Learn about deep cycle batteries

Power Inverters