Offgrid Solar & Inverter system Installation Training course and certification
We have partnered with the number one training institute: Wavetra Energy Academy and other carefully screened and selected international solar installers to bring to you a online yet detailed step by step training on solar panel installation. This is a free online solar training certification, the best online training on solar panel installation you can get.
You will be patient to watch the videos that shows you the hands-on guide on solar panel installation.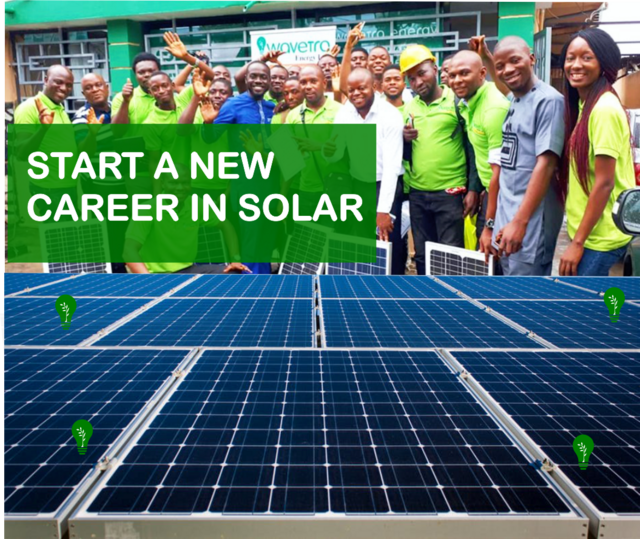 Learning Outcomes:
We hope that at the end of this course, you the participant will learn how to install solar panels, and all components for your clients.
At the end of the course, you would be able to do the following:
Know the principles of renewable energy
Understand the various types of Solar Panels: Polycrystalline, Amorphous & Monocrystalline Technologies.
Understand Load & Power Estimations & Calculations
Install Solar Panels for clients
Introducing Solar charge controllers
Understand and learn to install PWM and MPPT Solar charge controllers.
Understand Inverter & Solar Panel Specifications.
Target audience:
This course is aimed at Students, graduates, NYSC members, Engineers, Home owners, builders, Architects, Property Developers, system engineers, project managers, Consultants, electricians, roofers, anyone that has interest in Renewable energy or who want, to have a good understanding of Solar Photovoltaic. Who Should Take This Course?
Prerequisites:
A knowledge of O'Level Physics, electricity or experience in renewable energy and Inverter system is an advantage.
Computer and Internet Requirements
We have built StopLearn.com to be very responsive across all devices. But your computer or mobile device should match these software specifications for taking the course.
Mobile/Tablet
Compatible with all Android and iOS systems.
Opera mini browser not recommended
Chrome, Edge or Firefox browsers recommended -Use latest stable version
Laptop and Desktop Platforms
PC (Windows XP, Vista, 7, 8, 10)
Mac ( OSX 10.5 or later)
Hardware / Internet Requirements
1.8 Ghz or faster processor
2 Gb of RAM, 1 Gb of free disk space
Minimum screen / monitor resolution is 1280 x 800
Built in sound or sound card
Computer microphone or regular telephone for Webinar or Live Office Hours participation
High-speed Internet connection (at least 1 Mb download speed — click here to check your speed)
Latest version of Mozilla Firefox, Microsoft Internet Explorer, Google Chrome, or Apple Safari
Enabled cookies, javascript, Java, pop-ups
Ask your question:
Expert tutors will personally reply you usually within 24 hours. PLEASE you must type out your question title in full and give sufficient details
Course Features
Lectures

20

Quizzes

1

Students

529

Assessments

Yes
Modules

Welcome to this course. This is a prerequisite to the Wavetra Energy Academy real life practical sessions. In this course you will learn all you need to know about renewable energy and solar power isntallation. But because this is a practical course, we advice you take real life practical session at Wavetra Energy Academy for at least five days. Visit www.wavetra.com/academy for more information.

Quiz