Modules

1

Welcome to this course. This is a prerequisite to the Wavetra Energy Academy real life practical sessions. In this course you will learn all you need to know about renewable energy and solar power isntallation. But because this is a practical course, we advice you take real life practical session at Wavetra Energy Academy for at least five days. Visit www.wavetra.com/academy for more information.

Quiz

1
Final – Real life practical sessions and certification
Congratulations for completing the solar installation course! As you likely know, practice makes perfection. At this stage, we invite you to join our 1 day pure practical session. After the program, you will be issued a certificate certified by Wavetra Energy LTD, a member of Council for Renewable Energy Nigeria.
How to register:
Please scroll down to see how to make your payment both online or offline.
Here's a breakdown of what is left:
A real life practical session: Our in house engineer will take you through everything you have learned in this course. Emphasis will be placed on the practical demonstration and a do it yourself solar and inverter installation training.
Take a test. You will have to take a test to ascertain your understanding of the contents of the main course. Our tutors will be patient to put you through wherever you need help.
Certification: We will issue you a Wavetra Energy Certificate on Solar/Inverter installation training. The cost of all this is N15,000. This certificate is the prerequisite before we recommend you to our network of solar employers. You can use this certificate to seek for employment in renewable energy anytime.
About Wavetra Energy LTD:
Wavetra Energy LTD. (RC 1404420), a member of Council for Renewable Energy Nigeria, is a leading renewable energy company in Nigeria.
Wavetra Energy is the recipient of the Most Efficient Renewable Energy Brand Award in Nigeria, 2018
Pictures of some of our real life solar/inverter installation session graduates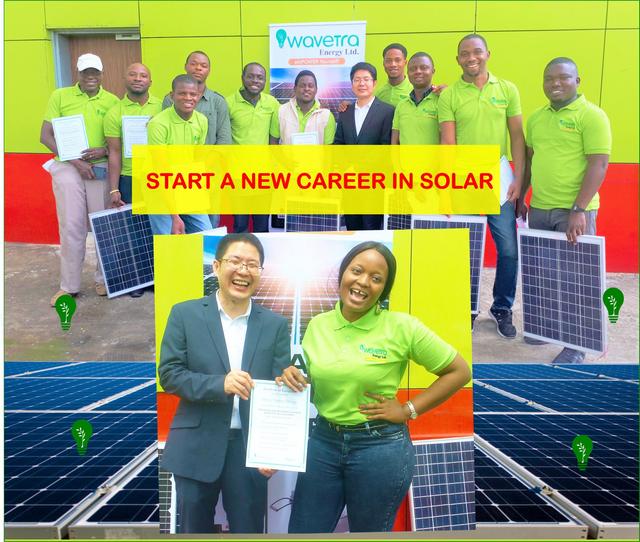 Watch some of our trainings below:
How to register:
OFFLINE PAYMENT:
Pay N15,000 to
Wavetra Energy LTD
1015075375
Zenith Bank
ONLINE PAYMENT:
Or pay online and select one day solar training here:
Having completed our online course, the cost of this certification is only N15,000. For more information, you can send a WhatsApp message to +2348157171707 or send an email to ask@wavetra.com
Congratulations once again!
Ask your question: Expert tutors will personally reply you usually within 24 hours.