PART 1 INTERACTION OF MATTER, SPACE & TIME

2

Concepts of Matter

3

Simple structure of matter should be discussed. Three physics states of matter, namely solid, liquid and gas should be treated. Evidence of the particle nature of matter e.g. Brownian motion experiment, Kinetic theory of matter. Use of the theory to explain; states of matter (solid, liquid and gas), pressure in a gas, evaporation and boiling; cohesion, adhesion, capillarity. Crystalline and amorphous substances to be compared (Arrangement of atoms in crystalline structure to be described e.g. face centred, body centred.

Fundamental and derived quantities and units

2

Length, mass, time, electric current luminous intensity, thermodynamic temperature, amount of substance as examples of fundamental quantities and m, kg, s, A, cd, K and mol as their respective units. Volume, density and speed as derived quantities and m3, kgm-3 and ms-1 as their respective units.

Position, distance and displacement

5

Position of objects in space using the X,Y,Z axes should be mentioned. Use of string, metre rule, vernier calipers and micrometer screw gauge. Degree of accuracy should be noted. Metre (m) as unit of distance. Use of compass and a protractor. Graphical location and directions by axes to be stressed.

Mass and weight

1

Use of lever balance and chemical/beam balance to measure mass and spring balance to measure weight. Mention should be made of electronic/digital balance. Kilogram (kg) as unit of mass and newton (N) as unit of weight.

Time

2

The use of heart-beat, sand-clock, ticker-timer, pendulum and stopwatch/clock. Second(s) as unit of time.

Fluid at rest

6

Experimental determination for solids and liquids. Concept and definition of pressure. Pascal's principle, application of principle to hydraulic press and car brakes. Dependence of pressure on the depth of a point below a liquid surface. Atmospheric pressure. Simple barometer, manometer, siphon, syringe and pump. Determination of the relative density of liquids with U-tube and Hare's apparatus. Identification of the forces acting on a body partially or completely immersed in a fluid. Use of the principle to determine the relative densities of solids and liquids. Establishing the conditions for a body to float in a fluid. Applications in hydrometer, balloons, boats, ships, submarines etc.

Motion

7

Only qualitative treatment is required. Illustration should be given for the various types of motion. Numerical problems on co-linear motion may be set. Force as cause of motion. Push and pull These are field forces namely; electric and magnetic attractions and repulsions; gravitational pull. Frictional force between two stationary bodies (static) and between two bodies in relative motion (dynamic). Coefficients of limiting friction and their determinations. Advantages of friction e.g. in locomotion, friction belt, grindstone. Disadvantages of friction e.g reduction of efficiency, wear and tear of machines. Methods of reducing friction; e.g. use of ball bearings, rollers, streamlining and lubrication. Definition and effects. Simple explanation as extension of friction in fluids. Fluid friction and its application in lubrication should be treated qualitatively. Terminal velocity and its determination. Experiments with a string tied to a stone at one end and whirled around should be carried out to (i) demonstrate motion in a Vertical/horizontal circle. (i) show the difference between angular speed and velocity. (ii) Draw a diagram to illustrate centripetal force. Banking of roads in reducing sideways friction should be qualitatively discussed.

Speed and velocity

3

Metre per second (ms-1) as unit of speed/velocity. Ticker-timer or similar devices should be used to determine speed/velocity. Definition of velocity as ∆ s ∆t. Determination of instantaneous speed/velocity from distance/displacement-time graph and by calculation. Unit of acceleration as ms-2 Ticker timer or similar devices should be used to determine acceleration. Definition of acceleration as ∆ v ∆t . Determination of acceleration and displacement from velocity-time graph Use of equations to solve numerical problems.

Scalars and vectors

3

Mass, distance, speed and time as examples of scalars. Weight, displacement, velocity and acceleration as examples of vectors. Use of force board to determine the resultant of two forces. Obtain the resultant of two velocities analytically and graphically. Torque/Moment of force. Simple treatment of a couple, e.g. turning of water tap, corkscrew and steering wheel.) Use of force board to determine resultant and equilibrant forces. Treatment should include resolution of forces into two perpendicular directions and composition of forces Parallelogram of forces. Triangle of forces. Should ne treated experimentally. Treatment should include stable, unstable and neutral equilibra. Use of a loaded test-tube oscillating vertically in a liquid, simple pendulum, spiral spring and bifilar suspension to demonstrate simple harmonic motion.

Simple harmonic motion

5

Relate linear and angular speeds, linear and angular accelerations. Experimental determination of 'g' with the simple pendulum and helical spring. The theory of the principles should be treated but derivation of the formula for 'g' is not required Simple problems may be set on simple harmonic motion. Mathematical proof of simple harmonic motion in respect of spiral spring, bifilar suspension and loaded test-tube is not required.

Newton's laws of motion:

3

Distinction between inertia mass and weight Use of timing devices e.g. ticker-timer to determine the acceleration of a falling body and the relationship when the accelerating force is constant. Linear momentum and its conservation. Collision of elastic bodies in a straight line. Applications: recoil of a gun, jet and rocket propulsions.
2. Application of Physics
You need not be a scientist to use physics. On the contrary, knowledge of physics is useful in everyday situations as well as in nonscientific professions. It can help you understand how microwave ovens work, why metals should not be put into them, and why they might affect pacemakers.

Physics allows you to understand the hazards of radiation and rationally evaluate these hazards more easily. Physics also explains the reason why a black car radiator helps remove heat in a car engine, and it explains why a white roof helps keep the inside of a house cool. Similarly, the operation of a car's ignition system as well as the transmission of electrical signals through our body's nervous system are much easier to understand when you think about them in terms of basic physics.Physics is the foundation of many important disciplines and contributes directly to others. Chemistry, for example—since it deals with the interactions of atoms and molecules—is rooted in atomic and molecular physics. Most branches of engineering are applied physics. In architecture, physics is at the heart of structural stability, and is involved in the acoustics, heating, lighting,and cooling of buildings. Parts of geology rely heavily on physics, such as radioactive dating of rocks, earthquake analysis, and heat transfer in the Earth.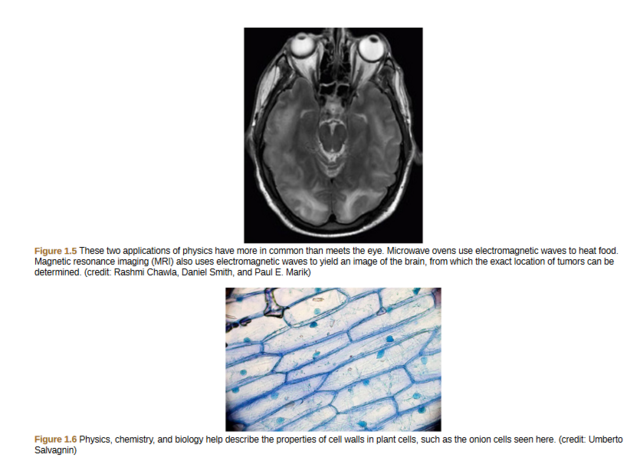 Some disciplines, such as biophysics and geophysics, are hybrids of physics and other disciplines.Physics has many applications in the biological sciences. On the microscopic level, it helps describe the properties of cell walls and cell membranes (Figure 1.6 and Figure 1.7). On the macroscopic level, it can explain the heat, work, and power associated with the human body. Physics is involved in medical diagnostics, such as x-rays, magnetic resonance imaging (MRI), and ultrasonic blood flow measurements. Medical therapy sometimes directly involves physics; for example, cancer radio therapy uses ionizing radiation.
Physics can also explain sensory phenomena, such as how musical instruments make sound, how the eye detects color, and how lasers can transmit information.It is not necessary to formally study all applications of physics. What is most useful is knowledge of the basic laws of physics and a skill in the analytical methods for applying them. The study of physics also can improve your problem-solving skills.Furthermore, physics has retained the most basic aspects of science, so it is used by all of the sciences, and the study of physics makes other sciences easier to understand.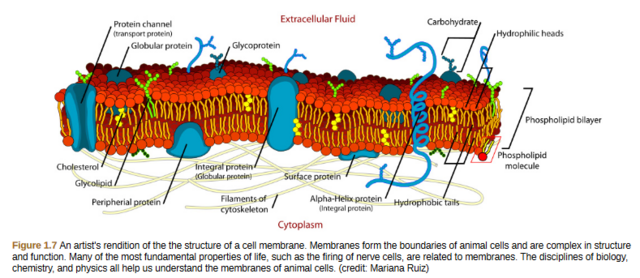 This OpenStax book is available for free at http://cnx.org/content/col11844/1.14
Ask your question:
Expert tutors will personally reply you usually within 24 hours. PLEASE you must type out your question title in full and give sufficient details