PART 1 INTERACTION OF MATTER, SPACE & TIME

1

Concepts of Matter

1

Simple structure of matter should be discussed. Three physics states of matter, namely solid, liquid and gas should be treated. Evidence of the particle nature of matter e.g. Brownian motion experiment, Kinetic theory of matter. Use of the theory to explain; states of matter (solid, liquid and gas), pressure in a gas, evaporation and boiling; cohesion, adhesion, capillarity. Crystalline and amorphous substances to be compared (Arrangement of atoms in crystalline structure to be described e.g. face centred, body centred.

Fundamental and derived quantities and units

0

Length, mass, time, electric current luminous intensity, thermodynamic temperature, amount of substance as examples of fundamental quantities and m, kg, s, A, cd, K and mol as their respective units. Volume, density and speed as derived quantities and m3, kgm-3 and ms-1 as their respective units.

Position, distance and displacement

0

Position of objects in space using the X,Y,Z axes should be mentioned. Use of string, metre rule, vernier calipers and micrometer screw gauge. Degree of accuracy should be noted. Metre (m) as unit of distance. Use of compass and a protractor. Graphical location and directions by axes to be stressed.

Mass and weight

0

Use of lever balance and chemical/beam balance to measure mass and spring balance to measure weight. Mention should be made of electronic/digital balance. Kilogram (kg) as unit of mass and newton (N) as unit of weight.

Time

0

The use of heart-beat, sand-clock, ticker-timer, pendulum and stopwatch/clock. Second(s) as unit of time.

Fluid at rest

5

Experimental determination for solids and liquids. Concept and definition of pressure. Pascal's principle, application of principle to hydraulic press and car brakes. Dependence of pressure on the depth of a point below a liquid surface. Atmospheric pressure. Simple barometer, manometer, siphon, syringe and pump. Determination of the relative density of liquids with U-tube and Hare's apparatus. Identification of the forces acting on a body partially or completely immersed in a fluid. Use of the principle to determine the relative densities of solids and liquids. Establishing the conditions for a body to float in a fluid. Applications in hydrometer, balloons, boats, ships, submarines etc.

Motion

7

Only qualitative treatment is required. Illustration should be given for the various types of motion. Numerical problems on co-linear motion may be set. Force as cause of motion. Push and pull These are field forces namely; electric and magnetic attractions and repulsions; gravitational pull. Frictional force between two stationary bodies (static) and between two bodies in relative motion (dynamic). Coefficients of limiting friction and their determinations. Advantages of friction e.g. in locomotion, friction belt, grindstone. Disadvantages of friction e.g reduction of efficiency, wear and tear of machines. Methods of reducing friction; e.g. use of ball bearings, rollers, streamlining and lubrication. Definition and effects. Simple explanation as extension of friction in fluids. Fluid friction and its application in lubrication should be treated qualitatively. Terminal velocity and its determination. Experiments with a string tied to a stone at one end and whirled around should be carried out to (i) demonstrate motion in a Vertical/horizontal circle. (i) show the difference between angular speed and velocity. (ii) Draw a diagram to illustrate centripetal force. Banking of roads in reducing sideways friction should be qualitatively discussed.

Speed and velocity

3

Metre per second (ms-1) as unit of speed/velocity. Ticker-timer or similar devices should be used to determine speed/velocity. Definition of velocity as ∆ s ∆t. Determination of instantaneous speed/velocity from distance/displacement-time graph and by calculation. Unit of acceleration as ms-2 Ticker timer or similar devices should be used to determine acceleration. Definition of acceleration as ∆ v ∆t . Determination of acceleration and displacement from velocity-time graph Use of equations to solve numerical problems.

Scalars and vectors

3

Mass, distance, speed and time as examples of scalars. Weight, displacement, velocity and acceleration as examples of vectors. Use of force board to determine the resultant of two forces. Obtain the resultant of two velocities analytically and graphically. Torque/Moment of force. Simple treatment of a couple, e.g. turning of water tap, corkscrew and steering wheel.) Use of force board to determine resultant and equilibrant forces. Treatment should include resolution of forces into two perpendicular directions and composition of forces Parallelogram of forces. Triangle of forces. Should ne treated experimentally. Treatment should include stable, unstable and neutral equilibra. Use of a loaded test-tube oscillating vertically in a liquid, simple pendulum, spiral spring and bifilar suspension to demonstrate simple harmonic motion.

Simple harmonic motion

5

Relate linear and angular speeds, linear and angular accelerations. Experimental determination of 'g' with the simple pendulum and helical spring. The theory of the principles should be treated but derivation of the formula for 'g' is not required Simple problems may be set on simple harmonic motion. Mathematical proof of simple harmonic motion in respect of spiral spring, bifilar suspension and loaded test-tube is not required.

Newton's laws of motion:

3

Distinction between inertia mass and weight Use of timing devices e.g. ticker-timer to determine the acceleration of a falling body and the relationship when the accelerating force is constant. Linear momentum and its conservation. Collision of elastic bodies in a straight line. Applications: recoil of a gun, jet and rocket propulsions.
Introduction to Physics
Science consists of the theories and laws that are the general truths of nature as well as the body of knowledge they encompass. Scientists are continually trying to expand this body of knowledge and to perfect the expression of the laws that describe it. Physics is concerned with describing the interactions of energy, matter, space, and time, and it is especially interested in what fundamental mechanisms underlie every phenomenon. The concern for describing the basic phenomena in nature essentially defines the realm of physics.
What is your first reaction when you hear the word "physics"? Did you imagine working through difficult equations or memorizing formulas that seem to have no real use in life outside the physics classroom? Many people come to the subject of physics with a bit of fear. But as you begin your exploration of this broad-ranging subject, you may soon come to realize that physics plays a much larger role in your life than you first thought, no matter your life goals or career choice.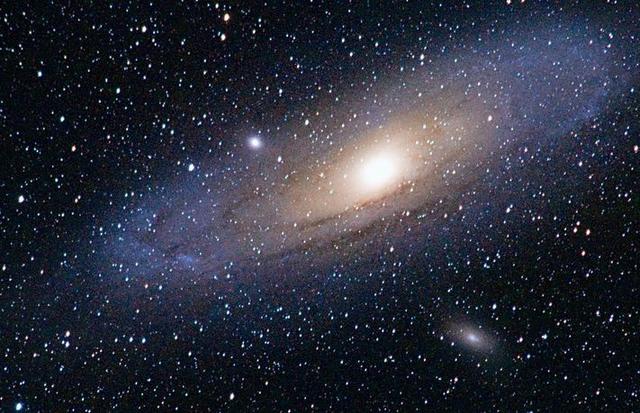 For example, take a look at the image above. This image is of the Andromeda Galaxy, which contains billions of individual stars,huge clouds of gas, and dust. Two smaller galaxies are also visible as bright blue spots in the background. At a staggering 2.5million light years from Earth, this galaxy is the nearest one to our own galaxy (which is called the Milky Way). The stars and planets that make up Andromeda might seem to be the furthest thing from most people's regular, everyday lives. But Andromeda is a great starting point to think about the forces that hold together the universe.
The forces that cause Andromeda to act as it does are the same forces we contend with here on Earth, whether we are planning to send a rocket into space or simply raise the walls for a new home. The same gravity that causes the stars of Andromeda to rotate and revolve also causes water to flow over hydroelectric dams here on Earth. Tonight, take a moment to look up at the stars. The forces out there are the same as the ones here on Earth. Through a study of physics, you may gain a greater understanding of the interconnectedness of everything we can see and know in this universe.
Think now about all of the technological devices that you use on a regular basis. Computers, smart phones, GPS systems, MP3players, and satellite radio might come to mind. Next, think about the most exciting modern technologies that you have heard about in the news, such as trains that levitate above tracks, "invisibility cloaks" that bend light around them, and microscopic robots that fight cancer cells in our bodies. All of these groundbreaking advancements, commonplace or unbelievable, rely on the principles of physics. Aside from playing a significant role in technology, professionals such as engineers, pilots, physicians,physical therapists, electricians, and computer programmers apply physics concepts in their daily work. For example, a pilot must understand how wind forces affect a flight path and a physical therapist must understand how the muscles in the body experience forces as they move and bend. As you will learn in this text, physics principles are propelling new, exciting technologies, and these principles are applied in a wide range of careers.
Physics aims to describe the function of everything around us, from the movement of tiny charged particles to the motion of people, cars, and spaceships. In fact, almost everything around you can be described quite accurately by the laws of physics.Consider a smart phone (Figure 1.3). Physics describes how electricity interacts with the various circuits inside the device.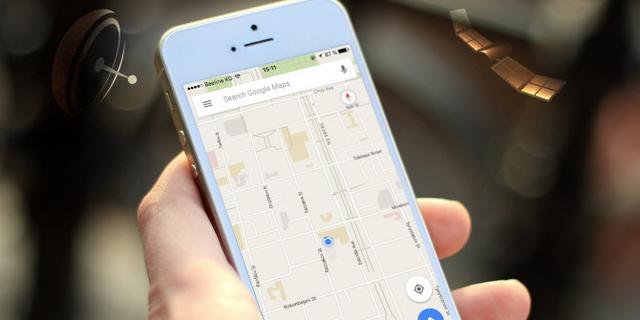 Figure 1.3 The Apple "iPhone" is a common smart phone with a GPS function. Physics describes the way that electricity flows through the circuits of this device. Engineers use their knowledge of physics to construct an iPhone with features that consumers will enjoy. One specific feature of an iPhone is the GPS function. GPS uses physics equations to determine the driving time between two locations on a map. (credit: @gletham GIS, Social, MobileTech Images
knowledge helps engineers select the appropriate materials and circuit layout when building the smart phone. Next, consider a GPS system. Physics describes the relationship between the speed of an object, the distance over which it travels, and the time it takes to travel that distance. When you use a GPS device in a vehicle, it utilizes these physics equations to determine the travel time from one location to another.
Ask your question: Expert tutors will personally reply you usually within 24 hours.